Sofia
Sofia Is Not Shy Around People
Age: 26
Ethnicity: Greek
Weight: 122 lbs
Height: 5ft 6in
Hair: Brunette
Languages: English
Statistics: B-Cup
Hometown: Reno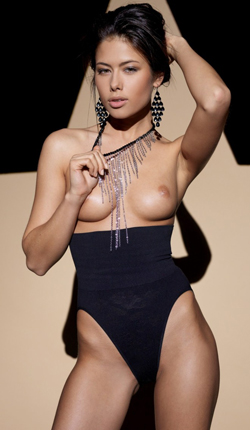 Classy Yet Personable
Sofia is one of our best strippers in Las Vegas, and we are hoping you will agree! She has worked in the Las Vegas nightlife realm for the past three years, and is one of our favorites among clients. This stunning beauty can get even the grumpiest client to smile. She has a personality that will light up the room, and she is a great listener when she isn't dancing. Sofia has the moves that strip clubs Las Vegas strippers don't seem to be able to compare with. It may be because she is down-to-earth and interested in people in general, rather than just performing. She gives a good mix of both.
When hiring a stripper in Las Vegas to entertain you, a woman like Sofia can make the entire experience one you will want to relive again and again. She has a way of making a striptease feel like you and her are the only people in the world. Time stands still, and you will be in awe at the delicate touches she gives to her overall performance. Don't take our word for it though, call and get a first-hand look!
Available For Groups
Sofia is not shy around groups. She knows how to get the crowd going and can turn a dreary get-together into a party to remember. She will give attention to each person in the room, excluding no one from the performance she gives. She is not into favoritism and makes sure each and every person leaves satisfied with the dancing she will do. Because of this trait, Sofia is one of our top strippers Las Vegas has to offer. She is often booked for Las Vegas bachelor party packages as she is a social butterfly with voluptuous curves that keep the guys interested throughout the party.
If you are interested in a girl like Sophia to give your bachelor party a boost, give us a call and let use throw a few of our Las Vegas bachelor party ideas your way to contemplate. Sophia is available alone or with several other Las Vegas strippers for more fun and more entertainment. She will be sure to give your guys a time they will remember, and she is always excited to find out we are sending her to entertain a group. Ask for Sophia!