Lacy
Lacy Will Turn Your World Upside Down
Age: 24
Ethnicity: Caucasian
Weight: 114 lbs
Height: 5ft 5in
Hair: Blonde
Languages: English
Statistics: C-Cup
Hometown: Seattle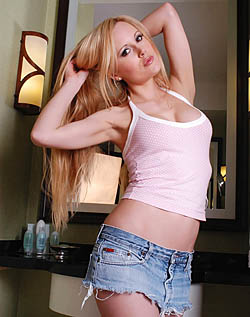 A Stripper For Every Reason
Hey there! My name is Lacy and I am a stripper in Las Vegas who wants to show you a great time while you are in the area. I use my name to my advantage by wearing lacy clothing whenever I can, from my dress or skirt and blouse down to my bra and panties. I'm lacy, Lacy. Watching a woman in complete lace take it off slowly is an extreme turn-on for many guys (and gals as well)! I believe you will agree if you were to watch.
I one of the strippers in Vegas who work in different stripping realms. I am a stripper for some of the hottest clubs in the area, like Drai's nightclub and the Sapphire. I am also a personal stripper for hire, who gives private performances in the comfort of a hotel room or home. Whether I'm in an energetic club or in the solitude of a quiet room, my main concern is for my customer. I want to give a show that will be remembered.
How Much Can I Show You?
Are you the type of guy who wants to watch Las Vegas strippers in Las Vegas strip clubs or would you rather have the benefit of an in-room experience? I believe the latter is much more giving. Because there are no others around getting in the way, I can give you a striptease made for your eyes only. When I strip in the clubs, things aren't really personal. They seem stilted and just kind of dirty overall. In-room performances are different. You get to know the person you are performing for, making it more exciting to see if you can give them what they desire.
I want to bare myself to you totally, if you will let me. I will slowly pull off my lacy clothing little by little as you watch. You can give me encouragement by telling me what you enjoy while I perform. Knowing that I am appreciated for what I do will make me strive harder to be the very best stripper I can. Are you up for the challenge? Can I show you everything I've got? Will you tell me if I do a good job with my dancing? I hope so. Call me to set up a private showing today!