Brazil
A Unique Girl For A Unique Experience
Age: 24
Ethnicity: Brazilian
Weight: 122 lbs
Height: 5ft 9in
Hair: Dark Brown
Languages: English/Spanish
Statistics: DD-Cup
Hometown: San Juan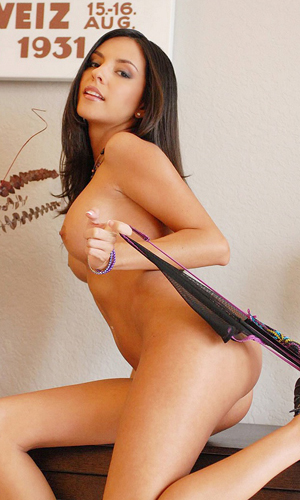 I Want To Fulfill Your Fantasies
Hello everyone! My name is Brazil, and YES, I am actually FROM Brazil! I am one of the many strippers Las Vegas services have to offer for your enjoyment. The difference is, I work for a professional service that will give you the peace of mind that you are getting entertainment at its absolute finest with no strings attached. That being said, I want to show you the time of your life when experiencing what strippers in Las Vegas have to offer. I am sure you will like what you see and I will make sure you leave satisfied with the experience we share together.
What exactly are you looking for that you are on this website? Are you interested in a slow, sultry performance from a gorgeous woman without having to share her with others in Las Vegas strip clubs? Are you thinking of Las Vegas bachelor party ideas? Are you without a vehicle and not really wanting to go out on the town when you don't know anyone? Well, no matter what your reasoning, I am one of the strippers in Vegas who will come to your room, at your convenience, to show you what you want.
I Enjoy Talking As I Strip
Most girls are quiet as they strip on stage, as the music is booming and there are guys all over the place trying to watch. Since I am in a personalized setting, I would much rather speak with you as I strip, if that is alright with you. This allows me to gently ask you what you want to see, making it easier for me to perform in a way that will leave you with a favorable impression.
I like getting to know my clients, as well. I meet many interesting people in this line of work, and it helps me to perform if I have a feel for someone's personality before I start taking off my clothing. If you would rather I don't speak, please let me know and I can keep quiet! If you are interested in seeing what I have to offer, please call and ask for Brazil to be your stripper in Las Vegas while you are in the area. You won't be sorry, I promise you!